Tera platform
tera platform
Main

features & specifications
TERA
Protocol
Traditional blockchains do not use the ordering of nodes with each other. This random organization of links does not guarantee fast delivery of blocks between all nodes. In Tera, nodes organize themselves into an orderly manner of communication.
The blockchain takes no longer than 3 seconds to deliver data from the 1st node to the last one. To achieve this, the nodes are connected to each other in a special connection, based on the similarity of the addresses of nodes with each other.
Traditional Blockchain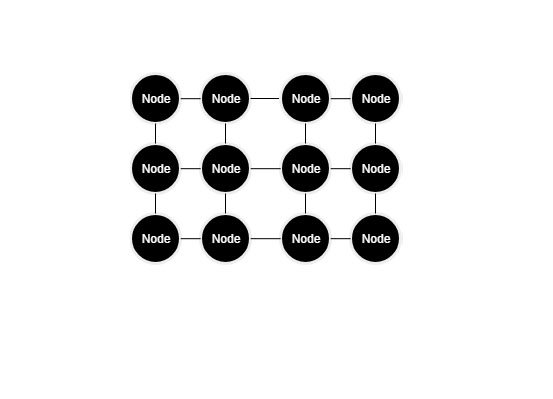 TERA Blockchain
TeraFoundation project is a blockchain platform that includes decentralized cryptocurrency wallets and DApps and manages users' digital assets, so the safety of our products comes first.
We remind that the bug hunter program pays 100,000 Tera for critical vulnerabilities found that lead to the theft of money from the wallet or the network shutdown. The event is held indefinitely - until a complete victory over all the bugs.
We express our deep gratitude to the GeekHack team for the consulting provided and the vulnerabilities discovered.
The team with high professionalism approached the study and promptly provided reports and recommendations, which made it possible to timely eliminate critical vulnerabilities and significantly increase the level of safety of our users' digital currency wallets. Fruitful cooperation, attention to details and the proper level of confidentiality allowed us to record the absence of real cases of operation, so the assets of our users were provided with the proper level of security.
| Max Supply | Launch date | Consensus Protocol | Cryptography | Smart contract language |
| --- | --- | --- | --- | --- |
| 1 000 000 000&nbsp&nbsp&nbsp | Jul-01-2018&nbsp&nbsp&nbsp | POW&nbsp&nbsp&nbsp | sha3, secp256k1&nbsp&nbsp&nbsp | JavaScript&nbsp&nbsp&nbsp |
| &nbsp&nbsp&nbspBlock Size | &nbsp&nbsp&nbspPre-mine | &nbsp&nbsp&nbspSource Code | &nbsp&nbsp&nbspExplorer | &nbsp&nbsp&nbspPlatform |
| 350 KB&nbsp&nbsp&nbsp | 5%&nbsp&nbsp&nbsp | gitlab, github | teraexplorer.org&nbsp&nbsp&nbsp | NodeJS&nbsp&nbsp&nbsp |
Roadmap
Plan of development